Ferrari 488 Pista will make you a track god
Yo, everyone, Muffy and Rawkus bring you deliciously good news, yesterday we brought you the news of the unofficially totally leaky reveal of the Ferrari 488 track destroyer called the Pista. Today we can confirm the leak pretty much got everything right, almost...
Today Ferrari spilt the beans and went all "reveally" officially that is and outed the 488 Pista for real this time. No grainy spy shots or images pulled from a video here.
From the official images, we can see the Pista is a styling evolution of the 488, looking even closer we can definitely see more than just a whiff of Speciale looking back at us. I mean look at those 458 ish squared-off angles, the totally subtle raw aggression and of course optional stripes, really love how the stripe starts from the lip then snakes its way through the cooling nostrils onto the bonnet before gracing the top and slithering to the rear.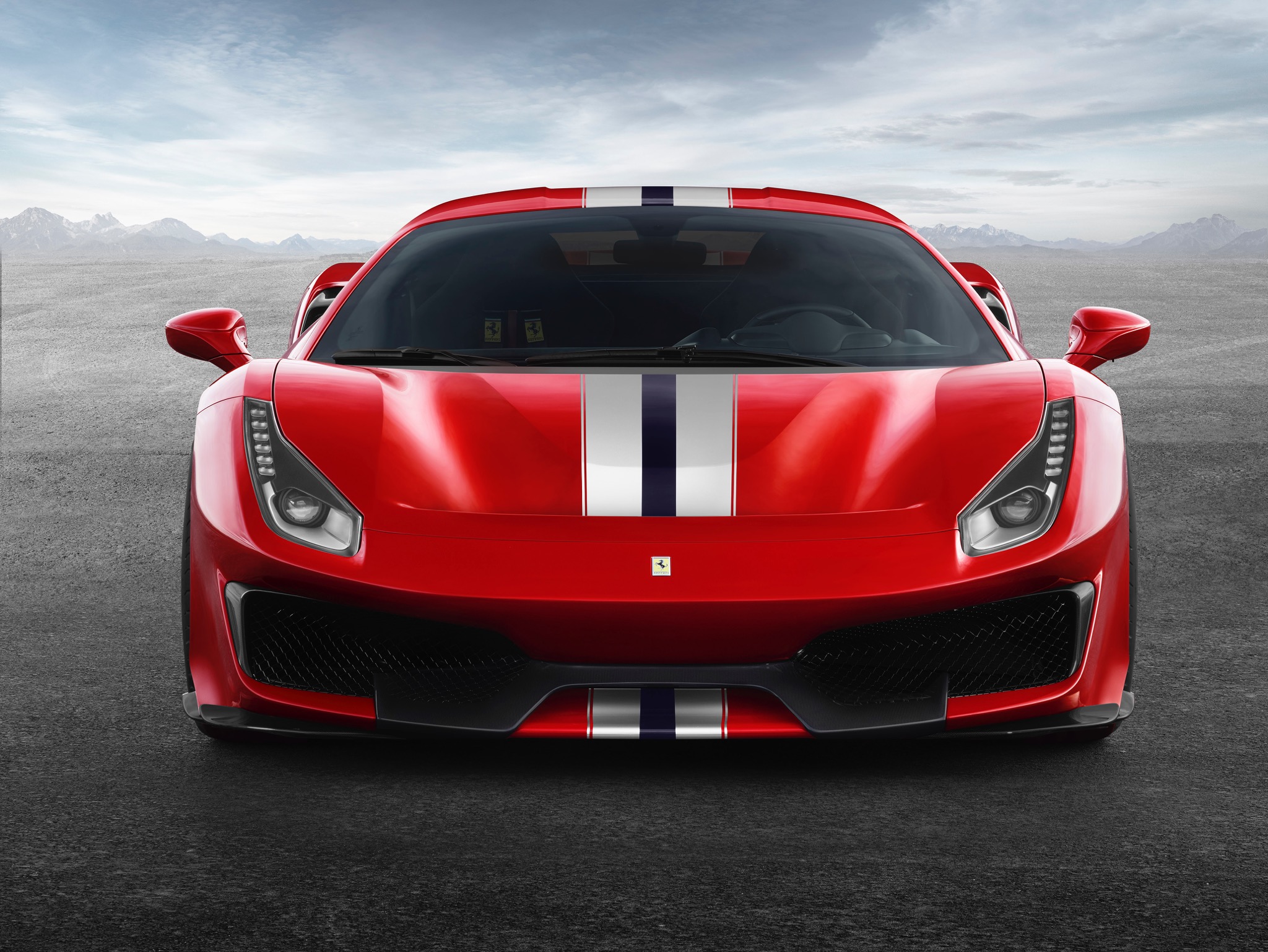 The Pista now gives you the option to spec carbon brakes if you are partial to carbon braking. Remember how much the speciale hated carpeting? Same story here, there are more exposed carbon bits than....am... a very "carbony" thing. The inside is uncomplicated and bare to make you feel like a real racing driver with more than hair on their chest. If your chest is a bit patchy or you simply don't care for naked carbon and exposed bits then you could always go down the less bare look.
So if you are a New 911 GT3 R S owner and wished you'd spent your money on something else well you are right to panic. Ferrari has quite literally kicked the GT3 RS in the goolies and upped the hardcore supercar ante with the 488 Pista way past 11.
By now you probably know Muffy and I really love the Pista. Have you fallen in love yet?
There are semi-automatic touches from the Ferrari 488 GTE race-car; the front and back diffuser setup looks very similar giving a generous increase in downforce to the tune of 20% without an iron board sized wing hanging off the back, GT3 RS we are looking at you for some reason.
For those with superhero aspirations, there is the sixth generation Side-Slip Angle Control system for god status on track. You might have to keep an eye on your tires though.
Did I hear someone say but it has a turbo engine? Well, it does and it has the same heart as the 3.9-litre twin-turbo v8 beating inside the 488. Power has been jacked up from 661 to 711bhp. Ferrari basically found another 50 horses running about in a field in Maranello and stuffed them inside the Pista while trimming 90kg of the flabby from the waist. Dry weight is now 1,280kilogram which is bloody light. Anyone who has driven a Speciale, Scuderia or even a Stradale will probably understand speed isn't everything. You buy these cars because you want to feel like a race car god, you also buy them because of the visceral experience, interaction and of course noise.
The Pista joins a very talented and much-loved group of cars like the 360 Challenge Stradale, 430 Scuderia and 458 Speciale as mentioned earlier, this brotherhood or sisterhood for any feminists reading this might just be the finest driver-focused group of Supercars Ferrari makes. End of story.
Ferrari is, of course, saying the 488 Pista makes a giant leap when compared to the cars it replaces due to lots of motorsport-derived technology contributing to its own name. Pista is Italian for track or trail in case you were wondering.
A brand new fresh Inconel exhaust should take care of noise junkies, basically, the exhaust uses identical material used in the exhaust system of the bonkers loud Jaguar f-type SVR. To that, we say bring on the noise!!